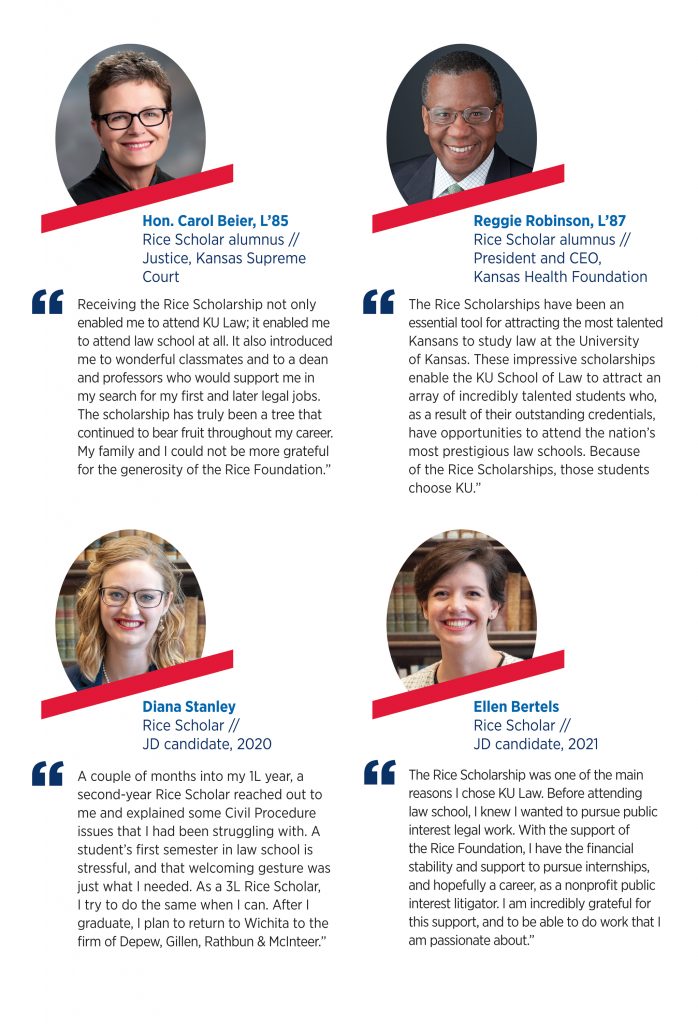 The first class of Rice Scholars started classes at KU Law in fall 1979. This fall, the school welcomed the 200th Rice Scholar to Green Hall.
Celebrating its 40th anniversary this year, the Rice Scholarship provides full tuition to five students in each entering class. Professor Emeritus John Peck, L'74, describes the program as "the single most important tool we have in attracting top Kansas residents to the law school."
Peck chaired the Rice Scholarship selection committee until his retirement in July. He estimates having conducted close to 1,000 interviews with prospective Rice Scholars. The selection committee looks for students who show promise in academics, leadership and contributions to the legal profession, Peck said.
David Seely, L'82, was in the first class of Rice Scholars. The program was a deciding factor in choosing to attend KU Law, Seely said. He is an attorney at Fleeson, Gooing, Coulson & Kitch in Wichita.
"I believe the program continues to impact the law school in a positive way by encouraging promising Kansas students to stay in Kansas for law school, rather than pursuing opportunities elsewhere," Seely said.
Since 1979, 201 Kansans have become Rice Scholars. Peck keeps track of Rice Scholar achievements. According to Peck's records, nearly half of past scholars graduated in the top 10% of the class. More than half have served on KU Law's student publications. Several have received faculty awards at graduation or won moot court competitions. Three graduates have clerked for the U.S. Supreme Court.
"By encouraging leadership and service, we have hopefully helped to inculcate and promote these qualities in our Rice Scholars," Peck said. "I believe most Rice scholars continue to make valuable contributions to the bar and the community at large."
Rice alumni have gone on to become law firm partners, judges, law professors, and state attorneys general and Supreme Court justices.
Beyond the financial benefits of a full-tuition scholarship, Rice Scholars have the chance to interact with successful attorneys and judges who are program alumni. Brad Finkeldei, L'99, said those types of interactions help students in the classroom and after graduation. Finkeldei was a Rice Scholar and has served on the Rice Foundation board of trustees since 2017. He's a partner with Stevens & Brand law firm in Lawrence.
"The Rice Scholarship is vital to KU Law because it keeps in Kansas highly successful students who would otherwise go to law school out of state and likely end up practicing out of state," Finkeldei said. "By keeping those students in Kansas, it not only helps the quality of the law school. It also keeps great lawyers practicing in the state."
Nearly half of the Rice Scholar alumni group practices law or works in Kansas. Another 20% are in Kansas City.
The Rice Scholarships were established through a gift from the Ethel and Raymond F. Rice Foundation. A 1908 graduate of the KU School of Law, Raymond Rice served as a member of the KU Law faculty from 1913 to 1926 and practiced law in Lawrence. Rice established the Ethel and Raymond F. Rice Foundation to benefit the Lawrence community following his wife's death in 1971.
— By Margaret Hair
This story originally appeared in KU Law's 2019 Annual Report.