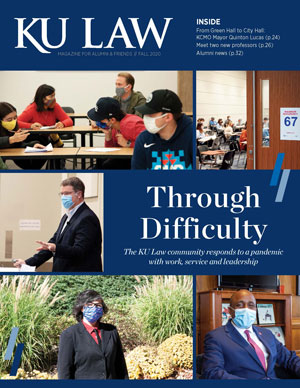 The KU Law community responds to a pandemic through work, service and community leadership
Mayors who have helped lead their city's response. A legislative analyst who was deployed to share information about the virus in the early days of its U.S. impact. A legal aid attorney who managed a hotline answering questions about stimulus payments. These are just a few examples of the KU Law graduates who have devoted their time and work in recent months responding to COVID-19.
The coronavirus has brought about tragic loss and hardship as it has turned the world upside down. The KU Law community – students, faculty, staff and alumni – has responded to the to the virus through its work, service and community involvement.
The alumni stories highlighted in the following pages show some of the many way KU Law graduates have responded to a global event. KU lawyers working for access to justice organizations have seen an increase in the need for legal assistance in the communities they serve, as citizens navigate a web of new policies and financial challenges. Alumni serving as mayors have guided local government responses and kept residents of their cities informed. In the public health sector, government workers and a health care industry CEO have worked around the clock to guide agency responses, distribute information and support potential treatments.
This section also details how the School of Law has adapted over the past several months. From finishing the spring 2020 semester remotely, to launching new summer projects to meet community need, to preparing for the fall term, KU Law has shifted its operations to address the current challenges.
Stories:
— Stories by Ashley Golledge and Margaret Hair
This story originally appeared in the fall 2020 issue of the KU Law magazine.