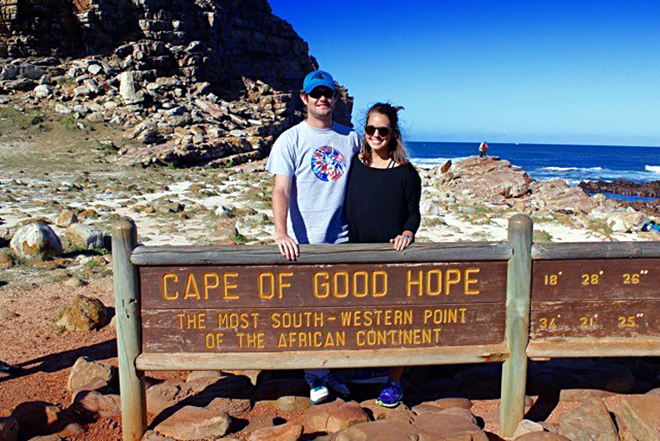 KU Law student leverages EJW Conference to launch legal career
As a 1L, Emily Dutcher spent a month volunteering at Cape Town's Project Abroad Human Rights Office, providing legal aid in vast shanty towns of over a million people. Demand for assistance was so acute that client lines snaked out the clinic door.
"The disparity in wealth, education and resources simply left them without knowledge of any of their rights," Dutcher said. "They were always so happy when we told them they weren't allowed to be treated a certain way."
Dutcher's experience in South Africa cemented her passion for a legal career focused on public service.
Back in the states, she applied to attend the Equal Justice Works Conference and Career Fair in Washington, D.C. The conference is the largest career fair of its kind, allowing students to network and interview with more than 150 employers from across the country. The KU Law Career Services Office paid all expenses for Dutcher and 12 other students to participate in 2015.
With a focus on landing a summer field placement near Charlotte, North Carolina, Dutcher interviewed with both the public defender's and prosecutor's office from that community and others. Before she had even returned to Kansas, Dutcher received an offer from the Mecklenburg County Public Defender's Office – an offer she ultimately accepted.
"I spent my days in front of judges, advocating for indigent clients who were told daily that because they were poor they weren't able to have certain things in life," Dutcher said. "The goal of my office was to provide good, honest, hard-working counsel and to treat defendants as human beings. My clients were grateful and surprised anyone cared for them, and that firmly grounded me in the public defender world."
Dutcher worked alongside students from law schools like Duke, Virginia, Wake Forest, NYU, George Washington and UCLA. They served adult clients charged with criminal offenses in state trial courts, learning from the more than 60 attorneys who handle cases in the office. Inspired by that experience, Dutcher hopes to secure a public defender position after graduation.
"I am certain I would not have gotten the job in Charlotte had I not attended EJW last October. It's a great chance for those who want to work outside of the Midwest to meet with employers face to face," Dutcher said. "Nailing down a summer job early gave me peace of mind, and Career Services made sure the trip was one to remember. There was even an alumni event that allowed students to network with Jayhawk lawyers in D.C."
Dutcher will return to the nation's capital this month with 16 other KU Law students attending the 2016 EJW Conference and Career Fair as guests of KU Law's Career Services Office. Several of them are preparing to spend their final leg of law school in KU Law's 6th Semester in D.C. Program, working in field placements at government agencies, nonprofits and NGOs while taking classes from KU Law faculty and establishing a professional network in D.C.
For Dutcher, who thoroughly enjoyed her time in Charlotte last summer, a public interest job in North or South Carolina is the ultimate goal.
"The skills we learn in law school are valuable and unique," she said. "I want to use my skills to help others who may otherwise be at a loss."
— By Mindie Paget