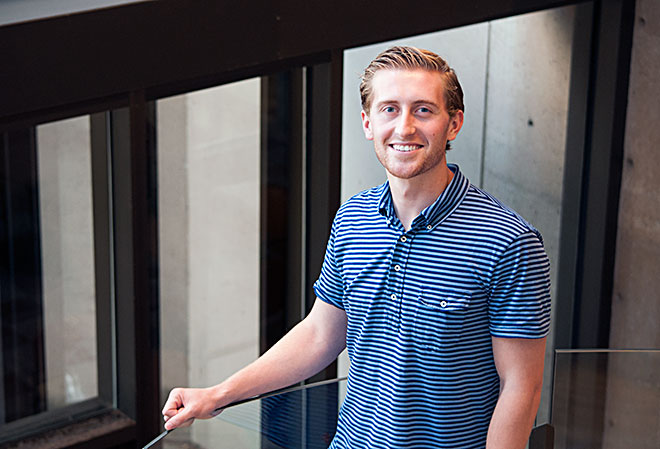 First impressions from an accelerated degree student
I am about halfway into my first semester of law school and I can say, without hesitation, that I've gotten myself into the most fulfilling, outrageous, exhausting, formative, wonderful journey of my life. It's not like what I expected, though.
I am a member of the first cohort of KU's Legal Education Accelerated Degree six-year BA+JD program. The LEAD program pre-admits students from high school, so I've been set on going to KU Law since I was 18 years old.
In anticipation of my ultimate foray into this law thing, the last three years I had been building up many expectations of how I thought it would be. The first months of law school have been a bull in my china shop of expectations. In order to shed some light for undergrad LEADers or those considering law school, I'd like to share some of these expectations and compare them to reality as a neophyte in the field of law.
Expectation
"Law school is for people who are boring and ugly and serious." — Elle's dad from "Legally Blonde"
Reality
The people here are serious, no doubt. Most of my colleagues have years of work experience, amazing life stories, or other graduate degrees – and they mean business when they come to law school. Being surrounded by this caliber of people is both inspiring and humbling, and might be my favorite part of the whole thing. However, the people are anything but boring or ugly. We gather for a ton of social events such as weekly bar crawls, tailgates, Halloween parties, casino nights, happy hours with professors, and even a Law Prom. There are many opportunities to forge friendships, and the common experience of being law students strengthens these friendships to the point where I know they'll last a lifetime.
Expectation
Being a lawyer is about verbally outmaneuvering your enemies in the courtroom.
Reality
No, it is nothing like "Suits" or "Law & Order" — sorry. Being a lawyer is about diligently researching a topic by spending many hours reading previously decided cases with similar issues and looking for precedent. Moreover, the vast majority of cases will never go to trial, so the big thrill for lawyers is writing a good document, not dropping evidence bombs in front of a jury. Reading comprehension and written analysis are definitely the key skills, not being able to use "verisimilitude" conversationally. So don't worry if public speaking isn't your thing.
Expectation
Law school probably won't be that much harder than undergrad.
Reality
Wrong. But the work is infinitely more interesting and usable, so it is actually enjoyable. Also, although the work load is substantially higher on a daily basis, it is a blessing in disguise. One of my biggest takeaways so far is a new appreciation for the value of my time. You can definitely see this same appreciation among professors and other students as well. People in this field learn how to work hard and efficiently so they can carve out time for the things they enjoy most in life.
I never could have foreseen just what law school would be like, but so far I am anything but disappointed.
— Nate Crosser is a first-year law student and KU Law Student Ambassador from Lenexa, Kansas. He is a member of the inaugural LEAD Program class. The deadline to apply for the accelerated degree program is Dec. 1.