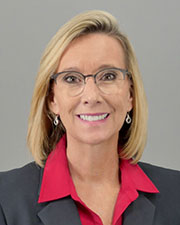 KU Law is among only a handful of law schools offering electronic discovery as a stand-alone class.
Coming from two decades of practice, Professor Amii Castle teaches students how to preserve, ask for, search and produce electronic documents and data. Students learn about advising clients on records retention policies, drafting litigation holds, the Rule 26(f) conference, requesting and producing ESI, search methods, discovery motions, discovery about discovery and requesting electronically stored information (ESI) from third parties.
"Let's face it: Most young civil litigators spend their first years doing discovery," Castle said. "In my Electronic Discovery I class, students learn how to conduct discovery in the digital age, and I provide instruction on the best practices in litigating issues involving ESI."
KU Law also now offers Electronic Discovery II, a second semester of electronic discovery where students put the skills they learn in Electronic Discovery I into practice. Castle strives to present low-stakes opportunities for students to gain practical experience. For example, students conduct a Rule 26(f) conference, draft a planning report and appear before Magistrate Judge Teresa James in a mock Rule 16 conference. Students also draft a motion to compel ESI and then present oral argument on their motions to practicing attorneys. In addition, students in Electronic Discovery II draft requests for production of documents, draft a client letter explaining the duty to preserve and learn the potential arguments surrounding technology-assisted review.
"Employers want young attorneys who are prepared on day one to handle ESI in discovery, and KU's electronic discovery courses give students that valuable education," said Castle, who also teaches Business Law at the KU School of Business.
"I think electronic discovery is essential for anyone considering practicing litigation," said Carly Masenthin, L'18. "Professor Castle is a wealth of information about this subject, and you are guaranteed an edge over competition in the civil litigation workplace after taking her class."