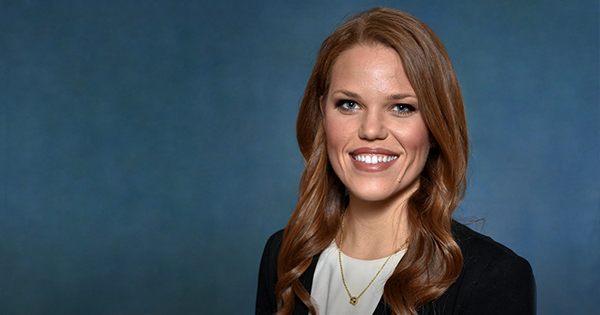 Lindsay Strong fondly remembers her final trial as a law student.
During her last semester at KU Law, she spent countless hours strategizing, memorizing and executing skills with her trial advocacy partner, Ellen Rudolph. They were tested on a weekly basis leading up to the final trial.
"We strategized as a team, supported each other and challenged each other," Strong said. "In the end, we were able to persuade the jury to find our client not guilty. It was a great feeling knowing that our hard work paid off and seeing ourselves grow as advocates."
Strong is from Lincoln, Nebraska. She initially came to KU to pursue an undergraduate degree in psychology and decided to stay for three more years to earn her law degree.
"I was very impressed with the legacy KU Law had in the region," Strong said. "I attended Admitted Students Weekend and was very impressed with the KU Law staff. The professors seemed genuinely excited to be teaching others about the law, and all had impressive qualifications."
Strong graduated from KU Law in May 2018. With the bar exam behind her, she is set to begin a clerkship with Justice Caleb Stegall of the Kansas Supreme Court.
After taking Justice Stegall's Appellate Advocacy class last fall, Strong sought an opportunity to continue to learn from him while serving the state of Kansas.
"I believe that this will be an irreplaceable experience for me," Strong said. "I will have the opportunity to learn and work with some of the most accomplished individuals in the legal field in the state of Kansas."
Strong advises current law students to take advantage of every opportunity provided and to not be afraid to branch out to new areas of the law.
"Law school is the best time to explore areas of the law that you wouldn't necessarily picture yourself in," Strong said. "Pick the classes that you think will challenge you — these are the classes you will grow the most from. If you get nervous talking in front of people, take as many simulation classes as you can. This is your opportunity to conquer those fears and practice in a safe environment before you have to exercise these skills in real practice."
Strong said KU Law provided her with unique experiences to develop as a young attorney and exposed her to the local legal community.
"Whether it was taking a class from a Supreme Court justice, conducting expert witness examinations in front of respected attorneys in KU's Expert Witness Skills Workshop or being in court for Legal Aid, I was able to meet and learn from practicing attorneys," Strong said.
One of her favorite memories from law school was the final exam for the Appellate Advocacy class, which took place at the Kansas Supreme Court. The exam consisted of completing a two-issue brief and presenting oral arguments in front of a panel of state appellate court judges.
"Although entirely nerve-racking, it was an unforgettable experience," Strong said. "Most attorneys strive for the experience of arguing in front of these respected judges. As just second-year and third-year law students, we were fortunate enough to already get the experience."
— By Ashley Hocking
This post is the fourth in a series highlighting the diverse internships and jobs KU Law students and recent graduates are engaged in over the summer and early in their careers. Check out earlier posts from this series about Omar Husain, James Hampton and Malika Baker.