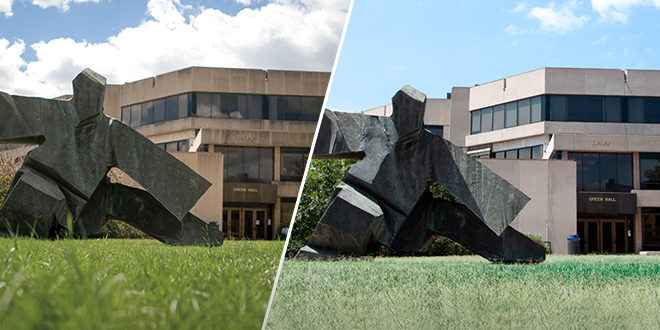 Green Hall is looking sharp after a spring cleaning that restored the exterior to its original 1978 luster.
Perched on rigging and lifts, crews from Mid-Continental Restoration out of Fort Scott replaced old caulking around joints and windows, power washed the concrete and glass inch by inch and applied a waterproof sealer designed to help the building withstand the elements and continue aging gracefully.
The $175,000 project took eight weeks, wrapping up in June after breaks for final exams and graduation. KU Law applied a portion of the gifts it received on Feb. 20 during One Day. One KU. – KU's first 24-hour giving campaign – toward the cost of Green Hall's facelift. The university also provided financial support for the project.
Thank you to everyone who contributed!