Student gets a taste of life and law in southwest Kansas
Call me Buck. Several days ago – never mind how many exactly – having little or no belt buckles in my dresser and nothing specific to interest me in Lawrence, I thought I would see the western part of Kansas. I have always wanted to see the rolling prairie, with blue skies and rich, full mustaches as far as the eye can see.
It was so fun! As a devout city-slicker, I never saw myself living in a tiny rural community on purpose, but the time I spent in Dodge City changed my mind. First of all, western Kansas is beautiful. In the evening, we could see thunderstorms in the distance in several different directions. It was quite beautiful. We also drove through the Flint Hills, and although I think they should have been named the Flint Lumps, they really are gorgeous, as were the undulating fields, wild flowers and sunshine.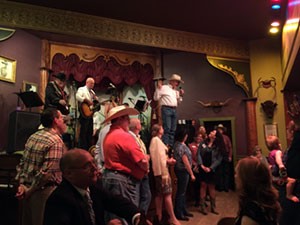 But what really piqued my interest was the roundtable discussion where several attorneys and a few judges described their experiences practicing in the area. Some of my favorite points: Whether you work for a firm or go solo, you'll hit the ground running, but not alone. If you work at a firm, you'll be meeting with clients and going to court right away. If you are a solo practitioner, you could reasonably have more business than you know what to do with. It doesn't matter if you are in criminal defense or trusts and estates. Either way, it won't take long to be earning a decent living.
In either case, there will be a community of experienced lawyers who are eager to help you get on your feet, and get your feet into some sweet Tony Lama boots. Plus, on a professional level, the rules of engagement carry the expectation that opposing counsel are respectful, considerate and honest when dealing with each other. And I mentioned the boots, right? Well, there are also hats!
After the meeting, we went to the Long Branch Saloon (and Museum) for drinks and dancing (and food for the nerds who didn't want to go straight to the drinks and dancing). I got to learn the two-step and joke around with three different judges who were extremely fun, and they even laughed at my jokes! Also, I asked a young attorney – a KU alum – if all the wonderful things everyone said in the meeting were really true. He said for the most part he thought so, and he definitely agreed about the work and financial opportunities.
Friday morning all the students went to a speed-interview session with several firms. Having a string of six-minute interviews one after the other was a bit strange, but it was also invigorating. It felt very low-pressure, and kind of like interview calisthenics. The interviewers were gracious and easy to talk to.
I am so glad I went on this trip. From talking to strangers to wearing a suit for more than five minutes, I did a lot of things I usually dread, but it was totally worth it. I got to know some of the students and faculty at KU, and they were all great, and my mind was opened to a new opportunity for life after law school. Plus, KU paid for the whole thing, and we got to stop for ice cream. Twice!
— Portia Riggins is a 2L and native Kansan. She collects belt buckles. Her ultimate goal is to find one that says, "Don't Mess with Kansas, Either." She was one of seven KU Law students to attend the Southwest Kansas Bar Association annual meeting in Dodge City, a yearly trip hosted by the KU Law Career Services Office and funded by the SW Kansas Bar.