Student uses allyship to help promote indigenous culture and rights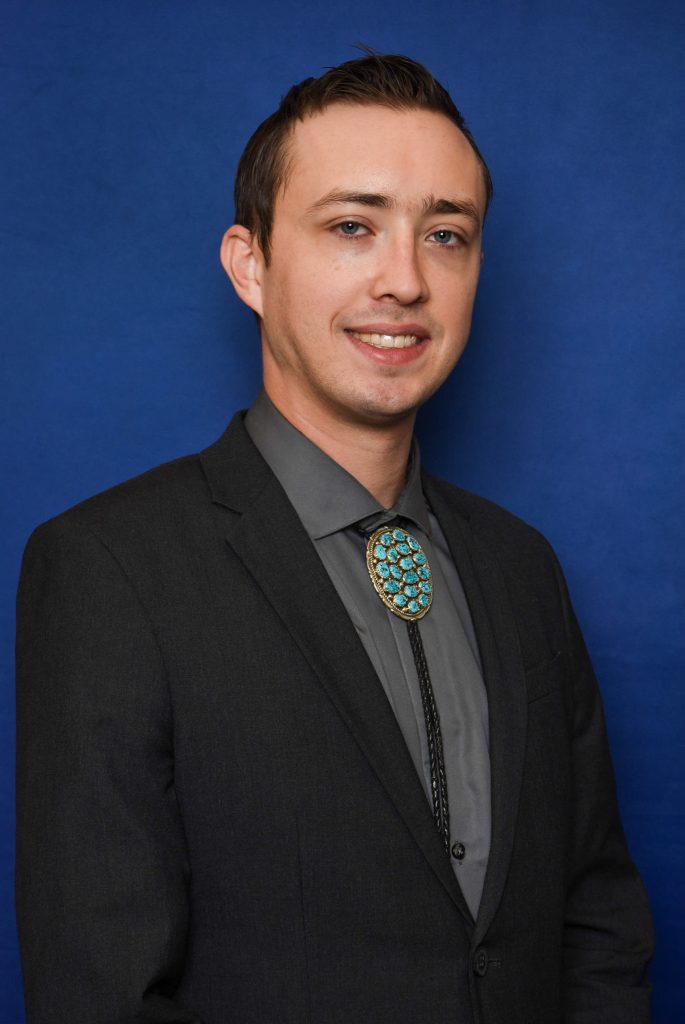 Kevin C Barnett has been interested in tribal law and federal Indian law since before he was a law student. After his graduation in May where he received his Juris Doctor and the Tribal Law certificate, he will continue his work with the Navajo Nation Office of the Prosecutor in Arizona.
More than three years ago, when Barnett first applied to KU Law he spoke about an important pending federal Indian law case in his personal statement.
"My personal statement talked about the Haaland v. Brackeen case – I think it was then called the Brackeen v. Bernhardt case – which is now about to be decided by the U.S. Supreme Court," Barnett said. "So, I came in with the laser focus of federal Indian law, tribal law and indigenous rights."
Barnett worked for the Navajo Nation Council the summer after his 1L year and connected with notable KU Law alumni like Eugenia Charles-Newton, L'08, and Justin Jones, L'04 (during his second summer working for the Navajo Nation). As part of his experience and the public interest grant he received from KU Law, Barnett was able to attend a litigation update to the Navajo Council in Albuquerque where he met the then Acting Chief Prosecutor of the Navajo Nation.
"I asked him about internship opportunities for the next summer because a lot of the work they deal with reminded me of my work as a social worker for a tribe in northern Wisconsin," said Barnett, referring to the Lac du Flambeau Tribe. "I wanted to help out the Office of the Prosecutor as part of the overall mission of the Nation to resolve problems in a way that's centered around their culture and form of justice."
Barnett later went on to intern for the Navajo Nation during the summer of his 2L year.
Barnett has always gravitated towards federal Indian law, serving as Vice President of the KU Native American Law Student Association (KU NALSA) as an ally and later serving as President of KU NALSA for his second year after the previous President transferred to a different law school. While Barnett took up the mantle, it is his hope that future KU NALSA Boards will be represented exclusively by native peoples.
"Ideally there would be more native students here and I could just be a member," Barnett said. "The actual board would consist fully of members of tribes and other actual indigenous persons."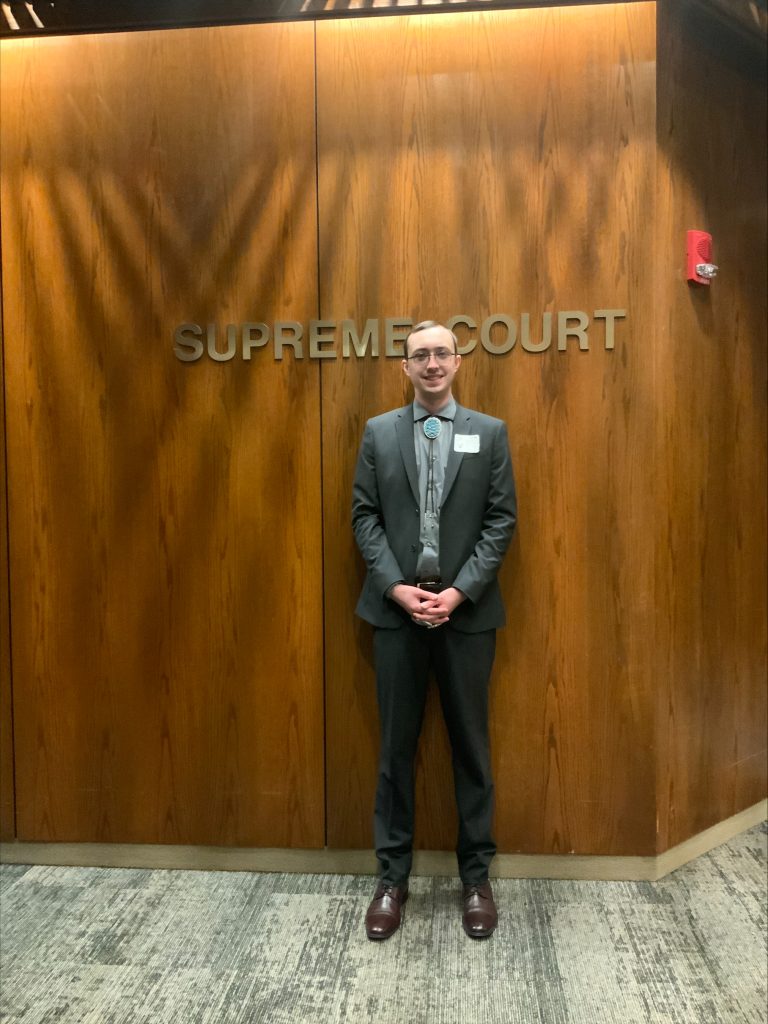 Barnett also participated in the National NALSA Annual Moot Court Competition in 2021 and 2022. This past year he served as the National NALSA (NNALSA) Secretary. He was recently in charge of coordinating the election of the next board who have officially begun their new terms.
"I was happy to be the Secretary," Barnett said. "I'm very forthright about being an ally in that position and having taken over as a steward of the position rather than some big innovator. I'm hopeful that the new board will not be held back by the same COVID fatigue that I think has had a lingering effect on us."
Barnett classifies himself and the rest of his graduating class as "the last of the COVID kids." The class of 2023 began law school in the Fall of 2020, just five months after the world went into quarantine because of the COVID-19 virus.
"We had a very understandably and unfortunately justifiably muted first year," Barnett said. "Any sense of what the norm was supposed to be was not there, so I think that onset and the fatigue of 'let's just focus on the essential stuff' was very mentally taxing."
As a former social worker, Barnett has seen the effects of prolonged and acute stress, but he is hopeful for future KU Law classes.
"My hope is that the current 1Ls and future law classes will reinvigorate the [Green Hall] traditions," Barnett said. "I'm hopeful that there's some reinvigoration of the law school culture."
As for the professor who inspired him the most during the muted first year and busy second and third years, Barnett is quick to respond.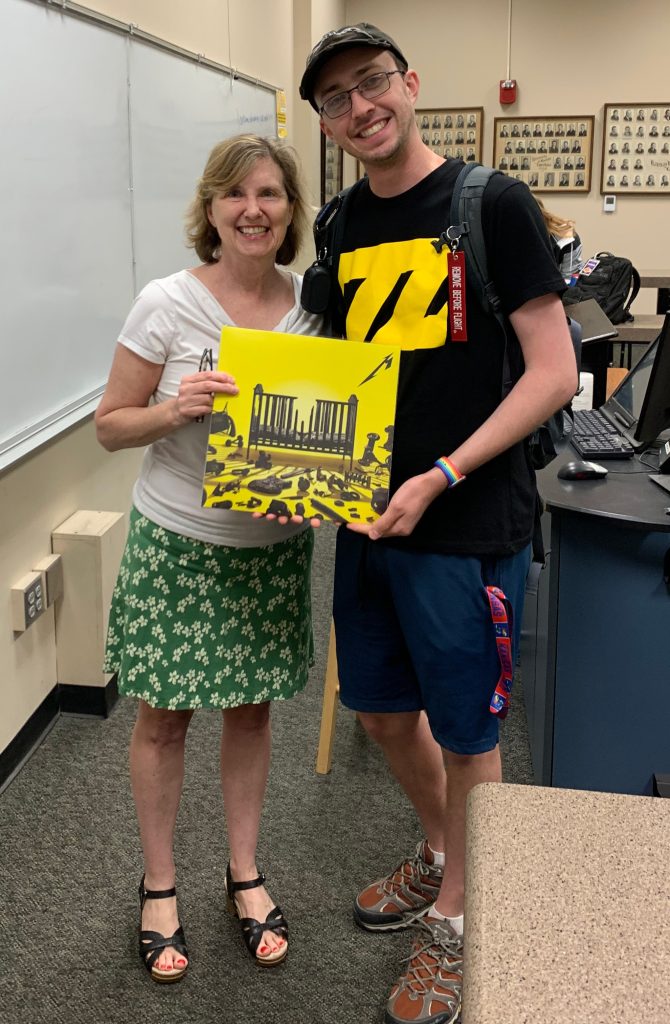 "Stephen McAllister is a very straightforward and earnest person," said Barnett. "I always enjoyed talking to him because I listen to every single Supreme Court oral argument, and I would talk to him about recent ones I had listened to."
Looking forward to the future, Barnett is hopeful KU Law will continue to diversify its student body.
"Native lawyers make up barely 1% of actual lawyers," Barnett said. "I think there's a need to have people represent their own tribe's interests or have native people represent tribal interests even if they're not a member of that specific tribe."
He also offers advice to all incoming and future law students.
"I'd give the same advice that I would give a lot of people in law school which is: listen to You Learn by Alanis Morrisette," Barnett said. "Come in with an inquisitive mind, know what you're about and remember who you're about. There's a lot of self-reflection that I think you need to go through and recognizing the actual meaningful things in law school is important. Class rank is not."
You live, you learn; you cry, you learn; you graduate law school, and you continue to learn.
– By Emma Herrman