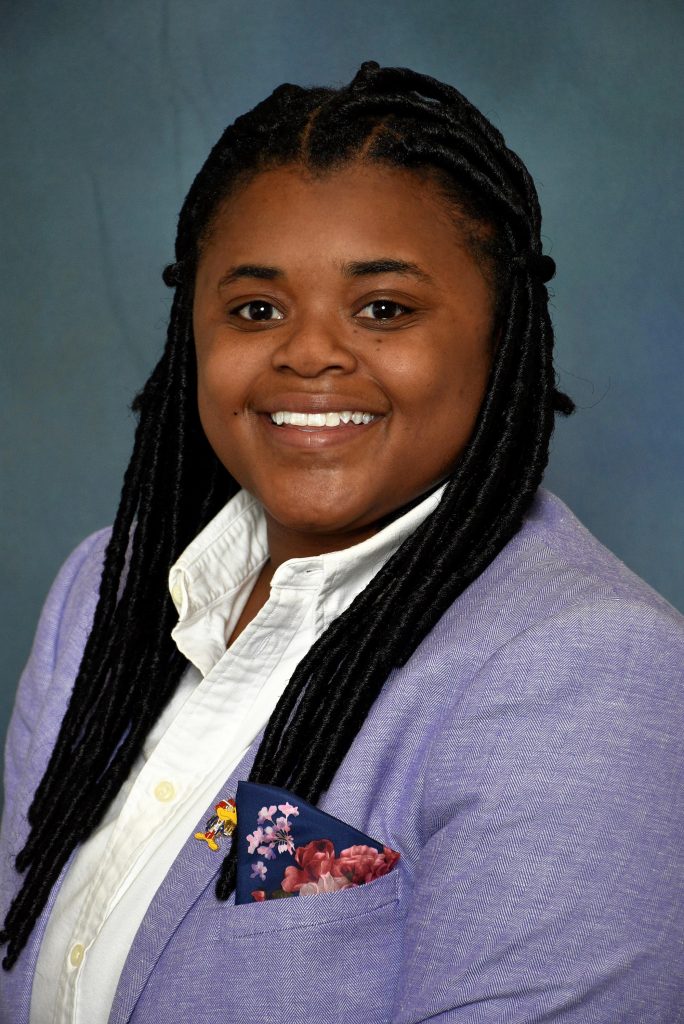 Outstanding graduate distinguishes herself through leadership, service
Terra Brockman has distinguished herself through leadership and service at the University of Kansas School of Law. Brockman, a third-year law student, will graduate this month. She has led the student body throughout her three years at KU Law by serving as Student Bar Association president and Student Ambassador president.
"I enjoyed being an advocate for the students at KU Law because it was important to me that everyone felt like they had a voice," Brockman said. "It wasn't always easy, but it was definitely worth it."
As a two-term Student Ambassador president, Brockman gave tours to prospective law students; enhanced student recruitment for KU Law; and helped build an inclusive and welcoming community.
Brockman served the school in other ways as well. Brockman is a member of the Black Law Students Association and the Dean's Diversity Leadership Council. She has served on the Graduate Student Advisory Board, Mock Trial Counsel and KU Court of Parking Appeals. Brockman also represented the law school at the American Association for Justice Student Trial Advocacy Competition in 2019 with seven of her peers.
"I enjoyed holding multiple leadership positions because I love to serve my community. I think I have always grown up that way," Brockman said. "I grew up learning about famous leaders like Martin Luther King, Jr., Malcolm X, Hillary Clinton and Nelson Mandela. I am always blown away by the impact they had on their communities. It really inspired me to give back, and always contribute to something bigger than myself."
Brockman received the Justice Lloyd Kagey Leadership Award from KU Law, which is given to the graduate who has most distinguished him or herself through leadership in the law school.
During law school, Brockman gained legal experience as a law clerk at DRZ Law; a legal intern at the Jackson County District Attorney's Office; a law clerk at the Wyandotte County District Court at the 29th Judicial District; and as a research assistant for Professor Suzanne Valdez. She also got a firsthand look at the criminal justice system through an internship at the Paul E. Wilson Project for Innocence & Post-Conviction Remedies.
"Professors Alice Craig, Jean Phillips and Elizabeth Cateforis taught me a tremendous amount during the year I spent in that clinic," Brockman said. "It was absolutely one of my favorite experiences at KU Law."
Brockman is also on KU Law's Pro Bono Honor Roll. She completed 70 hours of pro bono service throughout law school and earned Pro Bono Distinction recognition. Pro bono work is defined as uncompensated, law-related work that benefits the public, such as through a nonprofit organization or government agency.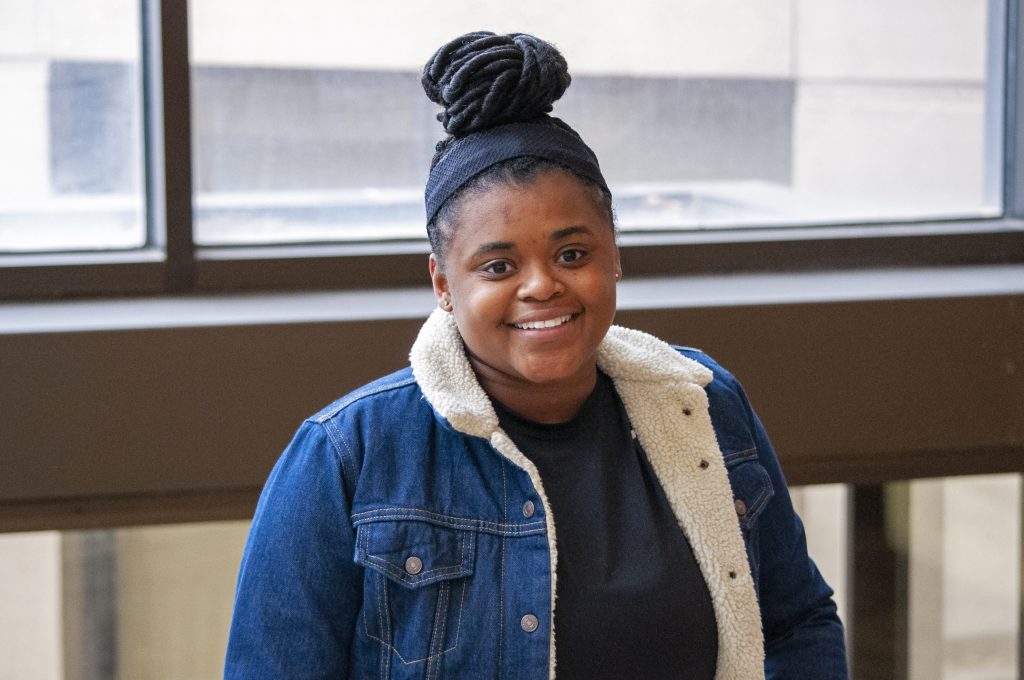 After she graduates from KU Law, Brockman will practice in family law and criminal defense at Joseph, Hollander & Craft in Wichita.
"KU Law prepared me for the workforce in a lot of ways. Going into law school, I knew I wanted to be someone who argued in a courtroom," Brockman said. "KU Law provides so many classes for those who are interested in going this route."
Brockman enjoyed the rigor of the KU Law curriculum and the opportunity to take experiential learning courses.
"My favorite classes at KU Law were all experiential courses that I took that I felt prepared me for practice, such as Trial Advocacy, Deposition Skills Workshop, Expert Witness Skills Workshop and Alternative Dispute Resolutions," Brockman said. "It was nice to learn skills one day, and then use them in class the next. These courses definitely helped make me a better advocate and litigator."
When asked who her favorite law professor was, Brockman was not able to narrow down her choice to one individual.
"There are too many to count! Some of my favorite professors are Professor Sward, Professor Valdez, Professor Mulligan and Professor Schnug," Brockman said. "All four of these professors have given me so much guidance both in and out of the classroom."
Brockman received undergraduate degrees in philosophy and psychology from the University of Kansas in 2016. She is from Kansas City, Kansas originally but moved to Overland Park, Kansas later in life. Brockman considers both as home. When looking at law schools, she initially did not intend to go to KU Law because she had lived in Lawrence for the previous four years. After visiting Green Hall and experiencing the KU Law atmosphere, she decided to spend three additional years living in Lawrence.
"When I walked in Green Hall, I could just feel the energy. The students were nice to each other; they interacted well with each other; and the faculty and staff were even better," Brockman said. "The energy that I felt in Green Hall was not something that I experienced at the other law schools that I visited. It's nice to know that after three years here that energy has remained the same."
Brockman's favorite KU Law tradition is the school's annual Barber Emerson Bluebook Relays event for first-year law students. The competition, sponsored by a Lawrence law firm, tests legal research skills learned in the lawyering skills courses. Working in teams, students locate references in the library and write the citation in correct bluebook format. The point system rewards speed, accuracy and citation skills.
"I was the Bluebook 'expert' for my team and loved getting to participate with my small section in this KU Law tradition. I think the whole experience really shaped the year for us and made us closer as colleagues," Brockman said.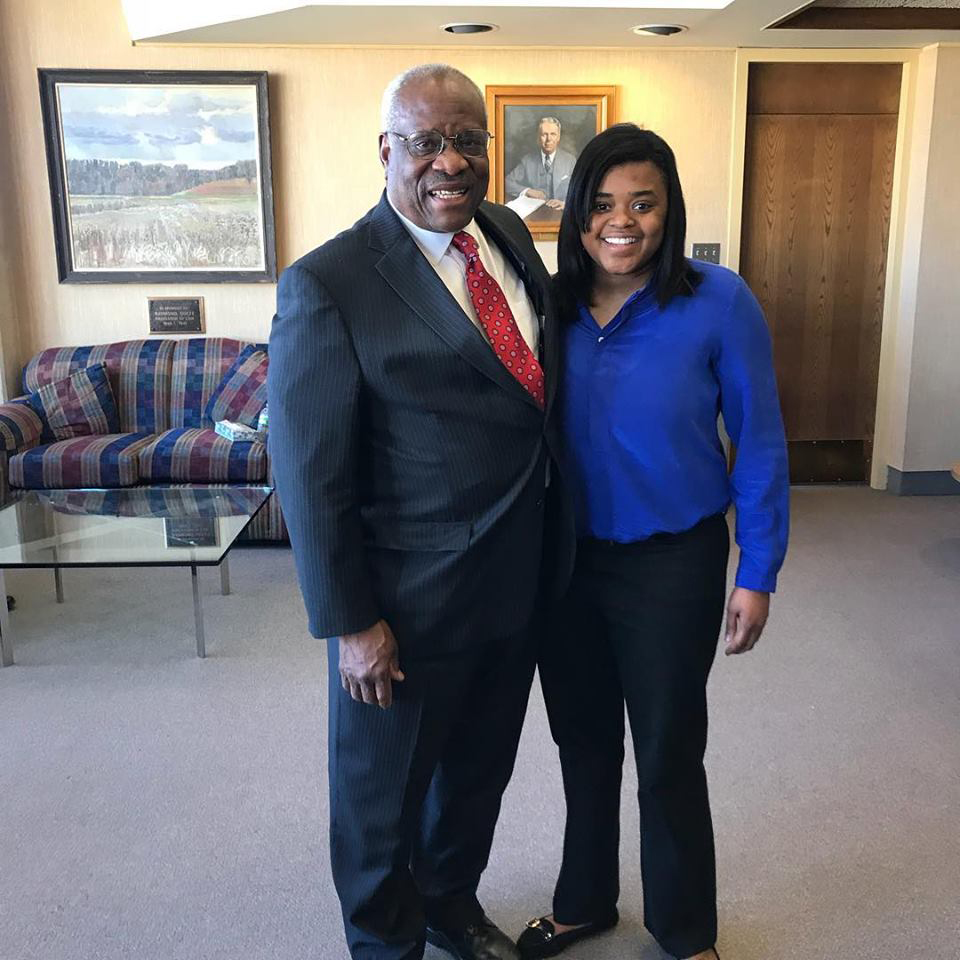 While Brockman was a first-year law student, she had the opportunity to meet U.S. Supreme Court Justice Clarence Thomas when he visited KU Law in 2018. Thomas was the second black man to be appointed to the country's highest court. He is the only black justice currently serving on the Supreme Court. Brockman considers his visit to be a unique experience that she'll carry with her throughout her legal career.
"I would definitely say having lunch with Supreme Court Justice Clarence Thomas is a favorite law school memory," Brockman said.
Brockman advises prospective law students to be patient with themselves, break out of their comfort zone and make the most of the opportunities that come their way.
"There is an incredible amount of pressure sometimes, and you want to be the best at everything. But sometimes you learn the most and get the most from the things you aren't good at," Brockman said. "Enjoy the process. It really is an incredible three years that serves you a lot of personal growth."
— By Ashley Golledge
This post is the third is a series highlighting just a few of the exceptional members of the Class of 2020. Check out stories about Denise Dantzler and Cara Beck, and stay tuned for more profiles as we celebrate this year's graduating class.