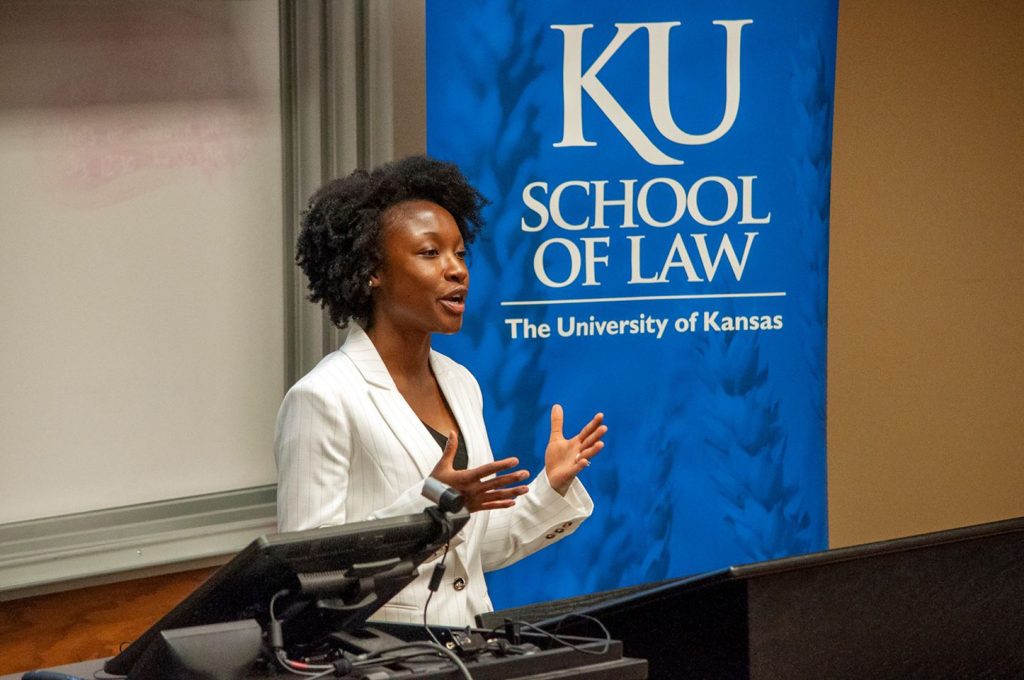 Accomplished student to pursue career in patent law
Third-year law student Denise Dantzler is a trailblazer. Dantzler was the first woman of color to serve as the editor-in-chief of the Kansas Journal of Law & Public Policy, which was founded in 1990. She was also the first in her family to go to law school.
In addition to holding the top leadership position at the Journal, Dantzler is a Shook Hardy & Bacon Scholar; member of the Black Law Students Association; member of the Dean's Diversity Leadership Council; teaching assistant for lawyering skills classes; research assistant for Professor Andrew Torrance, who is an expert in patent law; and member of the Jaffe Transactional Law Competition moot court team.
Dantzler received the Samuel Mellinger Scholarship, Leadership, and Service Award from KU Law, which is given to the student who has most distinguished him or herself in the combined areas of scholarship, leadership and service.
Dantzler also participated in KU Law's Summer Start program, which allows students to get a head-start on their law school education the summer before their peers begin law school.
"KU Law's Summer Start program drew me to the school. As a science undergrad, I figured I could use any extra time and resources to make the switch over to 'thinking like a lawyer,'" Dantzler said. "In the long run, this experience gave me the tools I needed to be successful as a law student."
Throughout law school, Dantzler gained a variety of legal experience. She was a summer patent law clerk at Hovey Williams LLP, did a legal internship at CenturyLink, worked as a summer associate at Shook, Hardy & Bacon, and did an externship with the Hon. Julie Robinson, L'81, Chief Judge of the United States District Court of Kansas.
Dantzler said that KU Law's legal writing and experiential classes have helped set her apart from peers attending other law schools.
"Over the past three years at KU, I have written briefs, contracts, opinions, a scholarly article, legal and legislative memorandums, research pathfinders, and more. I had no idea how much legal writing experience we receive until I compared our classes with other law students over the summer," Dantzler said. "I cannot thank my professors enough for this exposure."
While at KU Law, Dantzler formed a special connection with Professor Ellen Sward.
"Although I have enjoyed learning from all of my professors, my favorite professor is Professor Sward. She always puts her students before herself and wants each of her students to succeed," Dantzler said. "I am thankful I attended KU Law before she retires this year."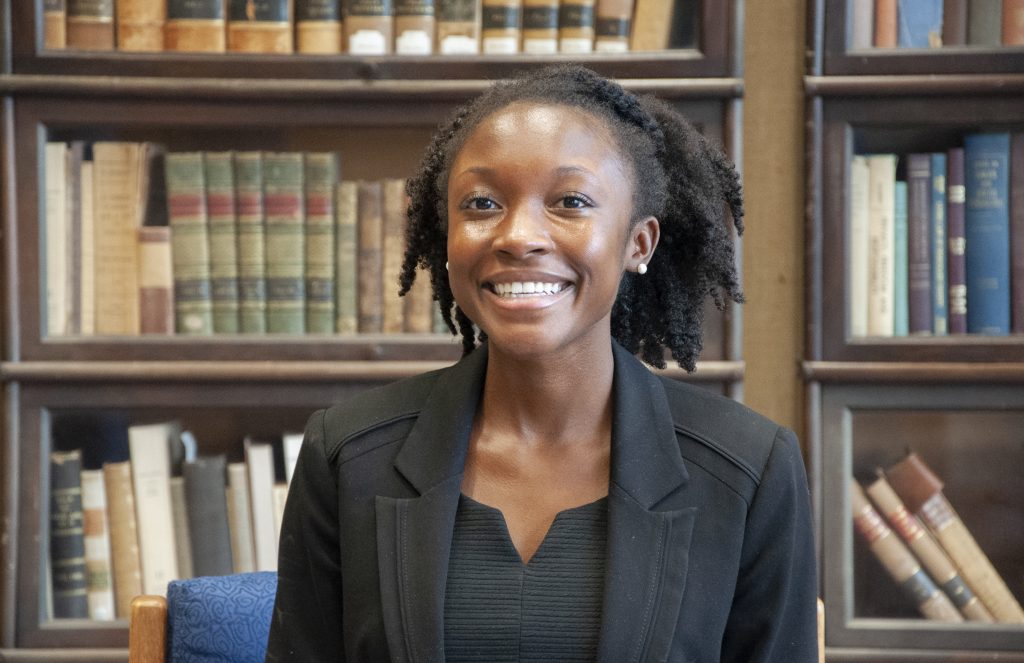 Dantzler, who is originally from Omaha, earned an undergraduate degree in chemistry from MidAmerica Nazarene University in Olathe. As an undergraduate student, she was a member of the school's soccer and track teams. She also tutored her peers in chemistry and writing, and has continued as an academic counselor for the MidAmerica Nazarene soccer team as a law student.
Dantzler advises prospective law students to have an open mind about what they want to do after they finish law school.
"Law school can open many doors for you, so do not close any before your start," she said.
Creating a strong circle of trustworthy and reliable friends has also been important to Dantzler during her law school journey.
"As much as I have appreciated my familial support over the past three years, sometimes, family members cannot understand the sacrifices you may have to make during law school," Dantzler said. "If it were not for my three great friends, I would not have gotten through law school!"
After graduating from KU Law this month, Dantzler will be a patent law associate at Hovey Williams, a boutique intellectual property law firm in Overland Park. Dantzler will leverage her background in chemistry to interpret domestic and foreign patent office actions and develop scientific and legal arguments.
"Because patent prosecution work is a perfect combination of science and law, I am thrilled to enter a field I know I will enjoy, and I hope to help inventors convert their novel ideas into business solutions," Dantzler said.
— By Ashley Golledge
This post is the first in a series highlighting a few of the exceptional members of KU Law's Class of 2020. Stay tuned for more profiles as we celebrate this year's graduating class.