Curiosity, sense of adventure draw student to 7 continents in 10 months
Cachet Hancock's legal education spanned three years and seven continents. The 2017 graduate combined her love of travel with her educational pursuits, visiting all seven continents within a span of 10 months during law school.
"I fell in love with traveling as a little girl," said Hancock, who grew up in rural Wabaunsee County, Kansas. "I was on the road a lot with my family and remember loving learning about people and culture."
Hancock was drawn to travel for many of the same reasons she was drawn to law school — to learn, be exposed to new ideas, and consider unfamiliar perspectives. "I love learning, seeing new things, and interviewing people," she said. "I learn to understand and hopefully walk away with new insight."
During her first semester of law school, Hancock heard about KU Law's study abroad program in China and became intrigued by the prospect of immersing herself in a region she knew little about. She participated in the program during the summer of 2015, then began seeking ways to integrate international experiences into her remaining coursework.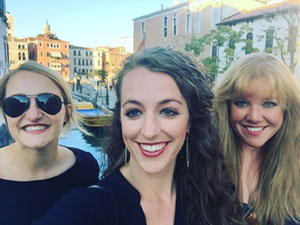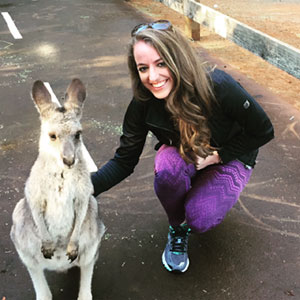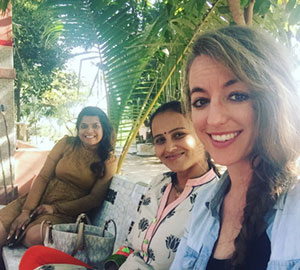 A semester in Trento, Italy, followed, as well as a visit to India for a friend's wedding. "I remember thinking that I could hit six continents within the year if I was conservative with my money," Hancock said. "Then I thought, 'What if you hit seven?'" She began researching study abroad programs in Antarctica, eventually settling on an independent research trip to explore the continent's unique legal status, including jurisdiction elements, environmental laws, and enforcement measures.
Beyond her legal studies, Hancock's globetrotting adventures satisfy a personal curiosity. A highlight of her trips is reaching out to local people to conduct interviews. "Most of my interviews have been focused on finding people who do what they love or who have overcome challenges," she said. "I've met people from all walks of life and always learn something."
One of her most compelling interviews was with the operator of a successful horse farm in New Zealand, who found peace and fulfillment through following his talents and passions. She hopes to eventually compile her interviews into a book or archive for others to enjoy.
As she concludes law school, Hancock is still considering her options for the future. She doesn't know exactly where she will launch her legal career, but she's confident that her curiosity and love of learning will serve her well as a young attorney.
"Asking questions comes naturally to me," Hancock said. "I've always been a curious person and love hearing about the lives of others."
— Emily Sharp
This post is the final in a series highlighting just a few exceptional members of KU Law's Class of 2017. Check out stories about James Houston Bales, Hannah Brass, Kriston Guillot, Taylor Ray, Matt Scarber and Sylvia Hernandez as we count down to the Hooding Ceremony on May 13.