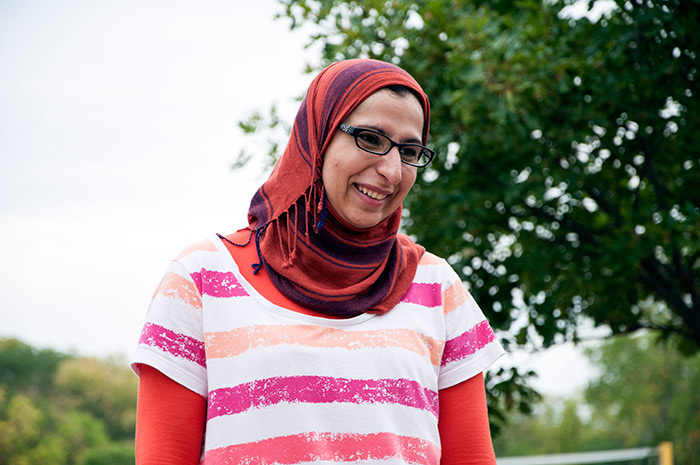 Professor Raj Bhala and Zainab Radhi, SJD'15, recall their first encounter with wonder and amusement. Radhi was interested in pursuing her Doctor of Juridical Science, and she wanted an expert in international and Islamic law to advise her research — one familiar with the Islamic economic system and passionate about helping people in developing countries through international trade, just like she was.
"I called him twice from Saudi Arabia but didn't leave a message," Radhi said, laughing. "He was very frustrated. What kind of student would call and not leave a callback number? For some reason my number showed up on his phone and he called back to say he was sorry, he couldn't take any more students."
Despite his initial reluctance, Radhi's persistence and passion won Bhala over. "She was a lawyer and law professor in Saudi Arabia. Her English was really good," Bhala said. "She was working in a very difficult environment as a woman. I feel very strongly about supporting Muslim women and legal professionals so they can be voices for toleration and moderation. She is part of a very important bigger picture."
For Radhi, her mother a judge and her father the dean of a law school, the commitment to social justice was ingrained at an early age. "I knew I wanted to reach out to people to deliver the truth or serve justice somehow," Radhi said. "In our first lecture in my first law class, the professor said, 'If you are coming to law school for justice, you are in the wrong place. Law is about regulation, not justice.'  That was disappointing, but I still thought I could find a right way."
Radhi began to find that way as a second-year law student, when she wrote a paper exploring the World Bank. "It was frustrating to see lots of money that was supposed to be given to poor people, but very little delivered to them," Radhi said. "Conditions were getting worse and worse. That was frustrating to me. How can we help those people?"
The answer, Radhi believes, lies in her faith. She developed a new funding model based on Islamic law principles, one that she believes can better assist beneficiaries and avoid the pitfalls of the current international aid system. "I thought that because I was a Muslim, I would be more interested in introducing this than other people," Radhi said. "It was an obligation I had to do this."
Radhi proposes a new international financial institution that would provide assistance directly to people rather than governments, enabling beneficiaries to help themselves instead of relying on handouts. The lender would not charge interest, which, according to the teachings of Islam, places an undue burden on borrowers. Instead, the model calls for profit sharing between borrowers and lenders, who act as partners rather than taking on an adversarial creditor-debtor relationship. As a result, both parties assume a greater interest in securing the success of the investment.
While the system is based on Islamic law principles, Radhi's model can be applied to secular systems and is intended for all types of entities, from banks to governments and nonprofit organizations. "It's got nothing to do with spirituality or religion," Radhi said. "It's only about the economic system, so any country or institution can accept it. If they really want to help people, I just give them this strategy, approach, tools, and they can implement it."
"To be a successful scholar, you've got to differentiate your personal beliefs – even heartfelt matters of faith – from your intellectual quest," Bhala said. "Zainab was able to write a dissertation about Islam and trade and finance as a person who happened to be Muslim rather than as a Muslim writing about trade and finance."
Radhi was born in Iraq, where she lived throughout the Iran-Iraq war and the Gulf War. When she was 15, her family moved to Jordan, staying for three years before immigrating to New Zealand, where Radhi completed her undergraduate law degree. She next moved to the United Arab Emirates, where she worked as a legal consultant, then moved to Saudi Arabia to get married and teach. Eventually she returned to New Zealand to complete her LL.M., and after another stint in Saudi Arabia, began her research at KU.
While Radhi worked, researched and raised two young sons in Lawrence, her husband Nizar, an engineer, stayed behind to work in Saudi Arabia. "I was a single mom," Radhi said. "I had to study a minimum of eight hours a day. It was very hard. Sometimes I woke up at 4 or stayed up until 3 studying. My kids asked me, 'Mom, when are you going to finish so you get to spend more time with us?' It was sometimes very painful to hear."
Radhi persevered with help from family and academic support from her faculty advisors and Wheat Law Library staff. Nizar shared tireless encouragement from the other side of the world, entertaining his sons with hours-long Skype sessions while Radhi studied. Her mother, sister, extended family and friends, all of whom live in Kansas, helped with child care and the day-to-day rigors of managing a home and a demanding research and writing schedule.
Radhi's family legacy of academic achievement and service was an inspiration throughout her research. In addition to her parents' distinguished legal careers, her uncle is a professor of civil engineering, and her aunt is a neurologist. All overcame incredible odds to become accomplished professionals. "After the first Gulf War when Zainab's family was forced out of Iraq, they migrated to Jordan and her dad took the position as law professor at the University of Jordan in Amman," Bhala said. "That's an amazing story of going from the dean of a law school in a war-torn country, to becoming a refugee, to migrating to another country to be a law professor."
Radhi's hard work paid off this April, when she defended her dissertation to a room full of advisors, fellow students, family and friends, becoming only the third S.J.D. candidate in the history of the program to pass with distinction.
"My heart was gonna stop," Radhi said. "My sister was recording, and I look at my face — it was incredible. Such an honor."
Her dissertation complete, Radhi is anxious to move on to the next stage — reuniting her family in New Zealand and putting her proposal into action. She plans to reach out to banks, government entities and nonprofits to implement her proposal on a small scale, with plans to expand.
"The proposed International Islamic Financial Institution or an NGO might decide to help people in a specific village or small city," Radhi said. "The Institution will open an office there, and its employees will undertake research to define the most urgent needs of the people." The Institution will offer interest-free financing and tools and machinery on cheap lease agreements, with a focus on projects that provide essential services, such as health, education and clean water.
Because the objective is to help people generate income, the financing scheme will be linked to some sort of business or investment, and business owners will be free to spend their profits as they choose, Radhi said. She hopes that institutions will be motivated to participate by the model's humanitarian appeal and potential to discourage the terrorist activities, illegal immigration and civil wars that can arise from an unstable economic system. The model also offers an opportunity to reach new and emerging markets and garner positive publicity through corporate social responsibility initiatives.
"When my sons complain about little things, I explain that some kids have to start working at 5 years old," Radhi said. "I hope one day we will have a little more justice and those people can afford to eat and live."