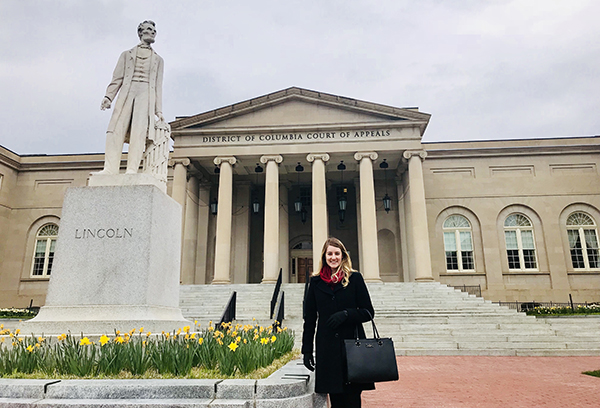 As an international trade compliance specialist for the U.S. Department of Commerce in Washington, D.C., Madeline Heeren uses the knowledge she gained in Professor Raj Bhala's international trade and finance classes every day.
In fact, KU Law's strong international trade law program and distinguished professors are what drew the Lenexa native to Green Hall. During her time as a law student, she set out to gain as much international law experience as possible and to set herself apart from others.
Heeren, L'15, studied abroad in Istanbul, worked as a summer associate at law firms in both Bangladesh and India, and co-founded a nonprofit organization to help people in the least developed countries obtain basic needs. She also served as president of the Student Bar Association, worked as a research assistant for Bhala and earned the International Trade and Finance Certificate.
In addition to her academic achievements, Heeren made lifelong connections during her time at KU Law.
"KU Law has had a huge impact on my life," she said. "I met my husband in my summer starter class, and the judge I clerked for, Judge Robert Berger, officiated our wedding."
Her spouse, Aqmar Rahman, also graduated in 2015. He is an international trade attorney in Washington, D.C.
At the Department of Commerce, Heeren leads and manages antidumping cases against large multinational organizations, trains new employees and represents the U.S. government abroad in interactions with foreign governments and multinational organizations.
One of the things Heeren enjoys most about her job is giving American businesses the opportunity to thrive through tariffs put in place by the Commerce Department.
"There has been a lot of news about steel and aluminum produced and sold by various countries at unfair values, either through dumping or subsidies, that are saturating the U.S. market and putting domestic companies out of business," she said. "It is incredibly rewarding to know that I am helping create an even playing field for American companies to compete."
One challenge the international trade community faces is a high volume of antidumping and countervailing duty cases by the international trade administration. Heeren said the caseload is higher than it has been in the last several decades.
"The decisions that we make have a huge impact on business abroad and locally, so it is important that even though the work has increased that these decisions are made carefully and correctly," she said.
Heeren encourages students be as active as possible in law school.
"Participate in student organizations, clerkships and internships," she said. "Look for opportunities that set you apart from other applicants. Sometimes the best opportunities are not the ones advertised, but ones that you find yourself."
Even though she is hundreds of miles away from Lawrence, Heeren finds plenty of opportunities to connect with the Jayhawk network.
"KU Law continues to have a great impact on my life in Washington, D.C., where I get to work with fellow Jayhawks," she said. "During basketball season, all the Jayhawks in the area get together at a local bar to watch all the games."
— By Ashley Hocking
This post is the seventh in a series highlighting the diverse internships and jobs KU Law students and recent graduates are engaged in over the summer and early in their careers. Check out earlier posts from this series about Omar Husain, James Hampton, Malika Baker, Lindsay Strong, Arturo Garcia and Jessie Pringle.