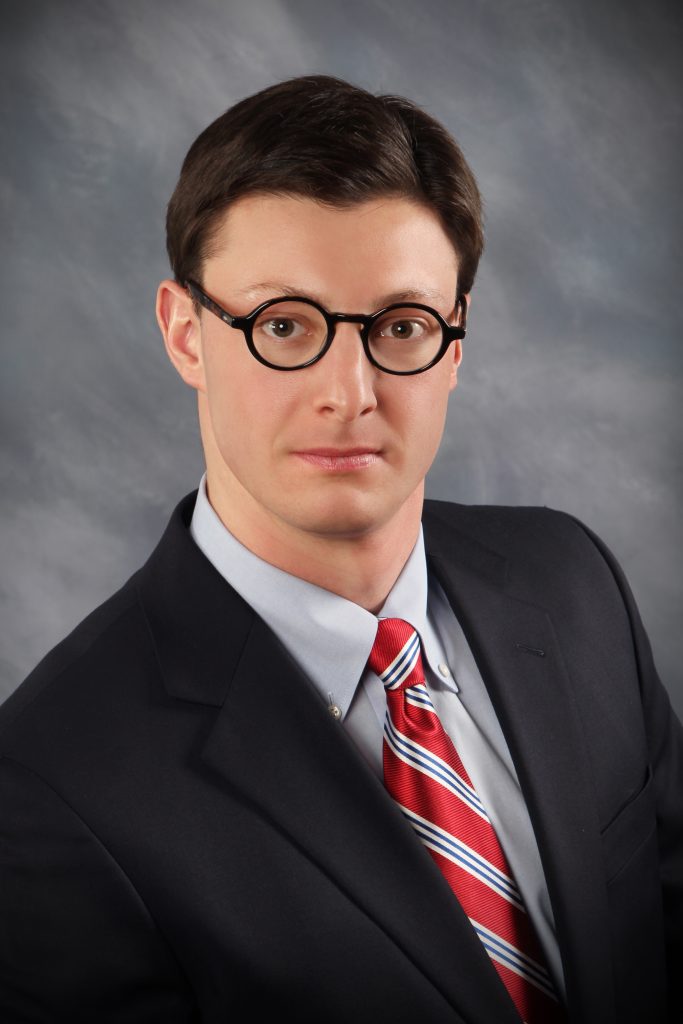 Dual-degree student pursues law, journalism and well-being
On the way to earning KU degrees in law and journalism, recent graduate Harrison Rosenthal made well-being a priority.
In 2018, he founded the Mindfulness in Law Society of the University of Kansas, a student organization that aims to improve law students' well-being through mindful practice. He also served as the student representative to the Kansas Task Force for Lawyer Well-Being, an effort by the Kansas Supreme Court that focuses on law student and attorney wellness. In that role, he created a wellness survey that will be distributed across the state to help collect information and further the mission of well-being in the bar.
"Law school is an interesting experience," Rosenthal said. "The key to success is (1) finding what makes you happy and (2) pursuing that thing. Life is too short not to do what you love."
Rosenthal graduates this month with a Juris Doctor from the University of Kansas School of Law. He will complete his doctoral degree from KU's William Allen White School of Journalism & Mass Communications in May 2021.
Originally from Overland Park, Rosenthal earned his undergraduate degree in journalism from KU in 2017. He decided to attend KU Law because of the school's joint degree program in law and journalism.
"KU is among a handful of American universities offering joint communication-law degree programs through independent schools of journalism and law," Rosenthal said. "The opportunity to pursue graduate and post-graduate education with expert faculty, and lead the vanguard into an important and dynamic field, made KU an obvious choice for my legal education."
While pursuing his degrees, Rosenthal completed several internships and clerkships, and has published several pieces. He interned for the American Civil Liberties Union of Kansas. He clerked for the Seventh and Tenth Judicial Districts of Kansas and for the Kansas Court of Appeals.
His paper "Viewpoint Conditioning: Social Media Use, Political Self-Efficacy, and First Amendment Perceptions" was accepted for presentation this spring at a conference hosted by the Association for Education in Journalism and Mass Communication (AEJMC). Rosenthal also serves as an officer for the AEJMC Law & Policy Division, where he writes a regular column. He has a book chapter titled "(Non)existent Laws of Workplace Cyberbullying: Limitations of Legal Redress in a Digitized Market" in press with IGI Global.
Rosenthal's most enduring law school memory is of the KU Law community's response to tragedy. In October 2018, the Jewish Legal Society organized a Blue Out event in response to a shooting at a Pittsburgh synagogue. The group urged students to stand in solidarity against hatred by wearing blue, and hosted a lunchtime panel discussion with academics and leaders from the Lawrence and Kansas City Jewish communities. Rosenthal served as vice president of the Jewish Legal Society.
"The outpouring of support was inspiring. The entire law school, from student leaders to administrators, came together to support a deeply personal and important cause. This is both my favorite law school memory and a thing of aspiration for the organized bar," Rosenthal said.
Several professors and administrators impacted Rosenthal during his time at KU Law, he said.
"By minimizing power differentials and treating pupils as future colleagues, the best teachers empower students with agency and autonomy such that students become excited to pursue their passions," Rosenthal said.
After graduation, Rosenthal plans to focus on passing the bar exam, finishing his doctoral dissertation and finding a job he's passionate about.
— By Margaret Hair
This post is the fourth is a series highlighting just a few of the exceptional members of the Class of 2020. Check out previous stories about Denise Dantzler, Cara Beck and Terra Brockman, and stay tuned for more profiles as we celebrate this year's graduating class.