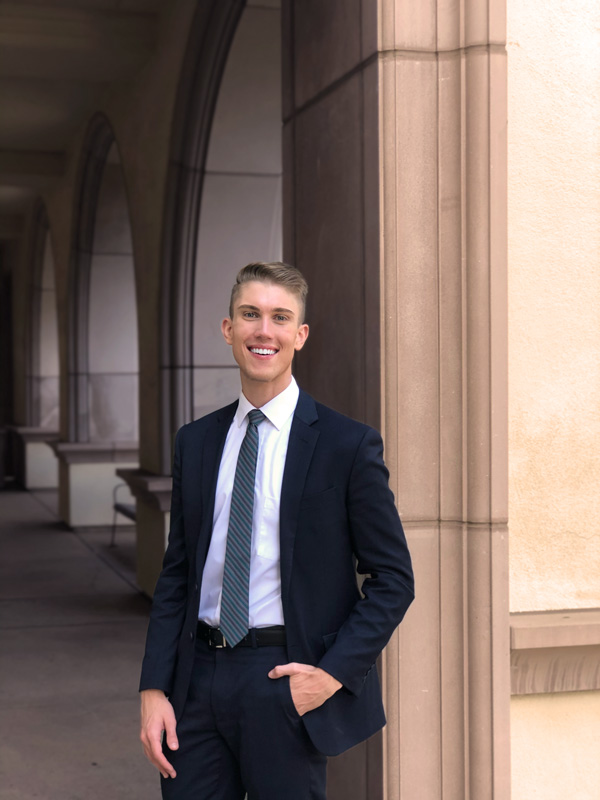 Student succeeds with engagement outside the classroom
TJ Blake took a tireless approach to law school.
From spending late nights preparing for moot court competitions to serving as managing editor for the Kansas Law Review, Blake found success in engaging in activities outside the classroom.
"Law school is exhausting – but it's also incredibly rewarding," said Blake, who graduated from the University of Kansas School of Law in May.
The effort paid off – he and competition partner Andi Leuszler, L'20, won the KU Law In-House Moot Court Competition at the end of their second year, earning them a chance to compete on the school's national moot court team.
"It was so satisfying to know that the late nights that Andi and I had spent obsessively preparing had been worth it," Blake said. "The competition was obviously a success, but more than that, it was so fulfilling to take a step back and realize I'd made a lifelong friend in the process."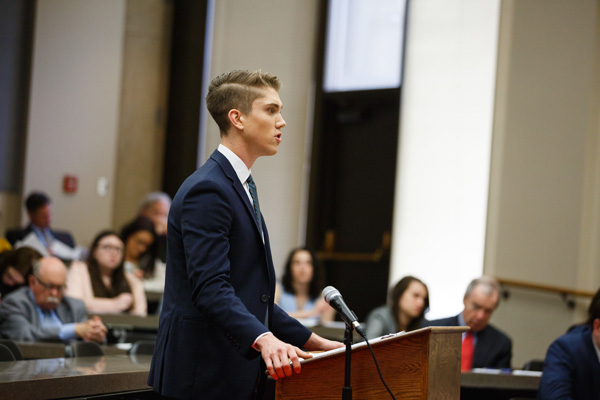 Originally from Hutchinson, Blake earned his undergraduate degrees at KU in political science and strategic communications in 2017.
When he decided to make the leap to law school, he took a self-assessment of his career goals and personal priorities. Blake and his husband, Tucker, are both Kansas natives, and knew "there's no place like home," Blake said. Still, he needed to make sure KU Law would fit his professional needs.
"After seeking advice from personal mentors, speaking with alumni about their experiences, and spending a day observing the academically competitive, yet friendly, environment of Green Hall, it became clear that KU Law had the resources and community to facilitate my success," Blake said. "After that point, the decision was simple."
Blake valued the team of professors who helped him succeed through law school. He credits professors Laura Hines and Lumen Mulligan for pushing him to continuously improve. Clinical Professor Elizabeth Cateforis – who worked with Blake as a team coach for national moot court competitions – "ended up being one of the most valuable life coaches I could have ever asked for," he said.
"One of the best aspects of KU Law is the diversity of strengths in the faculty team. Because law school challenges you in a way that most people haven't experienced before, you need a team of professors to help provide resources for your success," Blake said.
In addition to participating in the National Criminal Procedure Tournament and the Hunton Andrews Kurth Moot Court National Championship in the past year, Blake published an article for the Kansas Law Review, titled "In Their Words: Critically Analyzing the Admission of 'Me Too' Testimony in Kansas." He was also a member of OUTLaws & Allies, and participated in Traffic Court and Moot Court Council.
After taking the bar exam, Blake will join the Kansas City, Missouri law firm Bryan Cave Leighton Paiser, where he was a summer associate for the past two years.
He advises future law students to go into the experience as a blank slate.
"What you know – or think you know – about the law is about to completely change. Don't be hard on yourself if/when you don't find immediate success; law school comes to everyone at different speeds," he said. "Challenge yourself to ask questions, pursue answers, and accept that 'it depends,' is almost always the end result. Enjoy being in an environment that celebrates hard work, competition, and continual academic development."
"At times, this might feel like the longest three years of your life – but at the end, I think you'll be glad you pushed through."
— By Margaret Hair
This post is the seventh is a series highlighting just a few of the exceptional members of the Class of 2020. Check out previous stories about Denise Dantzler, Cara Beck, Terra Brockman, Harrison Rosenthal, Sasha Raab and Tara Mollhagen Shepherd, and stay tuned for more profiles as we celebrate this year's graduating class.