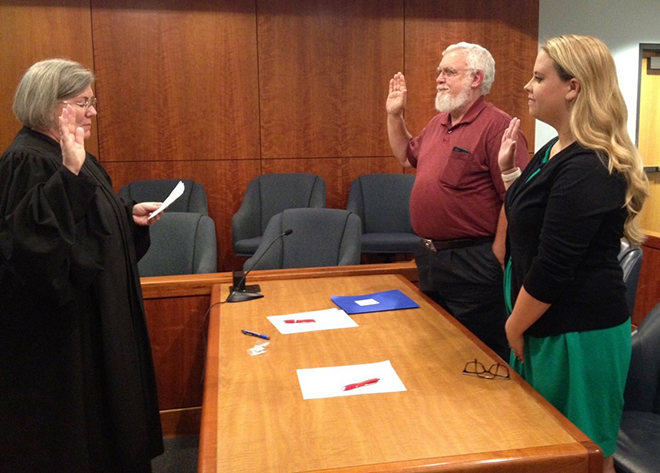 Katie Gilman being sworn in as a CASA volunteer during her 1L year at KU Law.
Future prosecutor goes above and beyond for young clients
Katie Gilman has a passion for helping children.
Although she wasn't sure where her law degree would lead her when she arrived at Green Hall three years ago, she found her calling advocating for the court system's youngest, most vulnerable clients. She mentors a 9-year-old boy through Douglas County's Court Appointed Special Advocate (CASA) program, attending all of his hearings, writing reports and more.
"CASA requires volunteers to meet with their child once a month, but Katie spends time with her mentee every week – taking him to the park, movies, bookstores and out to dinner," classmate Annie Calvert said. "She is one of the most caring and compassionate people I know."
Gilman's dedication will be recognized at graduation with Pro Bono Distinction, an honor reserved for students who contribute 50 or more hours of uncompensated legal service during law school. She estimates that she has devoted about 140 hours toward her child and his case since becoming a CASA volunteer her 1L year.
"It has been amazing to watch him grow and to see his case develop," Gilman said. "I cannot wait for him to be adopted and out of the system."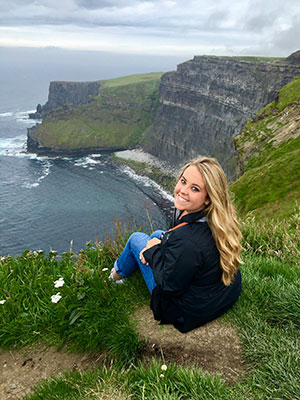 In addition to her work for CASA, Gilman interned for the Child in Need of Care Department at the Sedgwick County District Attorney's Office in Wichita, where she prosecuted abusive and neglectful parents and worked cases through the foster care and adoption/reintegration process. She also interned at the Johnson County Youth Court, a program in which minors are tried by their peers for first-time misdemeanor offenses.
Not all of Gilman's advocacy has focused on prosecution. She gained experience in criminal defense by taking the Project for Innocence and Post-Conviction Remedies during her 2L year. "Participating in the Project for Innocence was especially important for me as a future prosecutor," she said. "I was able to learn a lot about the decisions attorneys make in trying cases, and the incredible impact the criminal justice system can have on a person's life."
Gilman was a member of Women in Law and Phi Alpha Delta. Her most memorable law school adventure? Studying abroad in Ireland with Professor Laura Hines.
"The best part was traveling for an extended period of time with my classmates and experiencing a new country," Gilman said. "I will never forget how friendly and welcoming the Irish people were to us."
After graduation Gilman will return to the Sedgwick County District Attorney's Office. She can't wait to get to work.
"I enjoy the fast-paced environment of a prosecutor's office and spending most of my day in court," she said. "Long term, I hope to be able to move back to the Child In Need of Care Department, as that is where my passion lies."
She leaves Green Hall with lifelong friends – a perk she didn't necessarily expect.
"Even though law school is an extremely competitive environment," she said, "I have met and become friends with some amazing people who really inspire me."
— By Anna Buhlinger + Mindie Paget
This post is the sixth and final in a series highlighting just a few exceptional members of KU Law's Class of 2018. Check out stories about Maya Tsvetkova, Sam LaRoque, Joe Uhlman, Waynell Henson and Benjamin Stringer as we count down to the Hooding Ceremony on May 12.