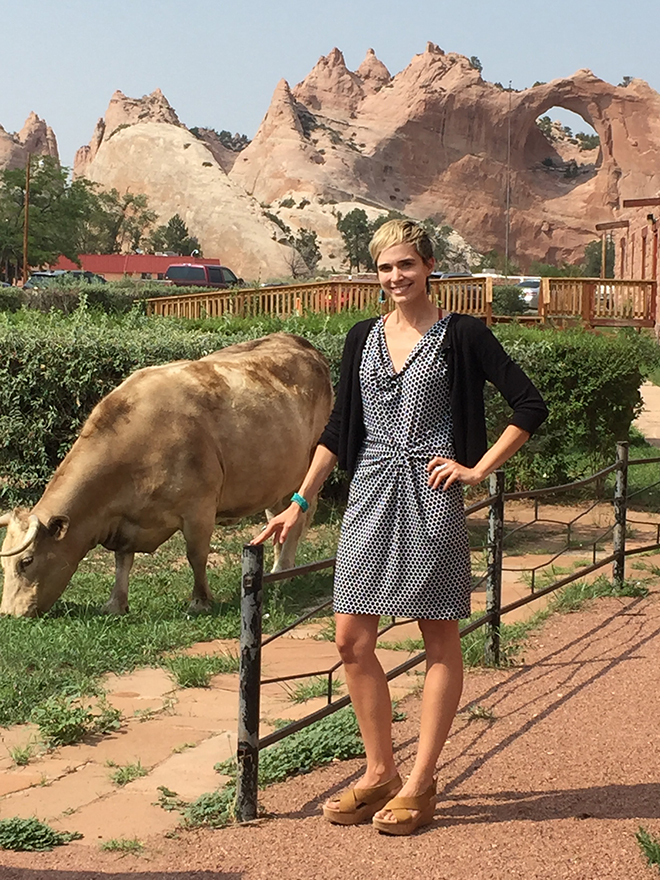 Earning a certificate in tribal law was pivotal in Becky Howlett's legal education.
"Ultimately, my experiences in KU Law's Tribal Law and Government Center were part of the underlying reason I chose to dedicate my legal career to advocating on behalf of tribal governments and indigenous peoples," Howlett said.
A member of the Navajo Nation Bar Association, Howlett serves as outside counsel at the tribe's Department of Justice in Window Rock, Arizona. She assists with public safety priorities, manages a working group undertaking a comprehensive analysis of the Nation's criminal code, and drafts tribal codes, rules and procedures.
It can be difficult, she said, coordinating with people across departments and divisions.
"Improving public safety on the Nation is a multidisciplinary effort, and getting all the necessary stakeholders together in one place on a regular basis to communicate and collaborate can be a challenge," Howlett said. "For example, many participants may be located hundreds of miles away from the meeting location or simply be unable to attend due to a general lack of staff and resources."
Howlett said the most rewarding part of her job is developing long-term relationships and building trust among Navajo partners.
"I have been coming out to the Navajo Reservation for a couple of years now, and there is nothing better than feeling like a member of the community when I travel into Window Rock," she said. "It warms my heart to be recognized and greeted by not only Navajo Nation Department of Justice staff, but also local hotel and restaurant workers. This small community, seemingly out in the middle of nowhere, has truly become like my second home."
Howlett was born and raised in Kansas City, Kansas. She graduated from the University of Kansas in 2011 with bachelor's degrees in English and journalism. She earned a KU Law degree in 2014. During law school, Howlett worked as a summer associate at two different law firms in Seattle, as well as an intern at the Kansas Native American Affairs Office in Topeka. She was also involved in KU's Native American Law Students Association, Women in Law and the Environmental Law Society.
Howlett maintains fond memories of participating in the National Native American Law Students Association Moot Court Competition — despite almost being stranded in an ice storm on the first night of the competition.
"We somehow were able to get a ride back with some other competitors as opposed to calling Professor Elizabeth Kronk Warner at 2 a.m. to come get us," Howlett said. "I think we would have walked rather than take the second option, to be honest."
During her time in Green Hall, Howlett also gained practical experience through her involvement with the Kansas Law Review and the Tribal Judicial Support Clinic.
"During the clinic we drafted laws for a local tribe to enact the Tribal Law and Order Act and the Violence Against Women Act," she said. "I have drawn upon my familiarity with these two federal laws at all of my jobs since graduation, including a nonprofit organization and a big law firm. Much of my current role is drafting tribal code amendments, so my KU Law experience is directly relevant to the work I do today."
— By Ashley Hocking 
This post is the ninth in a series highlighting the diverse internships and jobs KU Law students and recent graduates were engaged in over the summer and early in their careers. Check out earlier posts from this series about Omar Husain, James Hampton, Malika Baker, Lindsay Strong, Arturo Garcia, Jessie Pringle, Madeline Heeren and Miranda Luster.