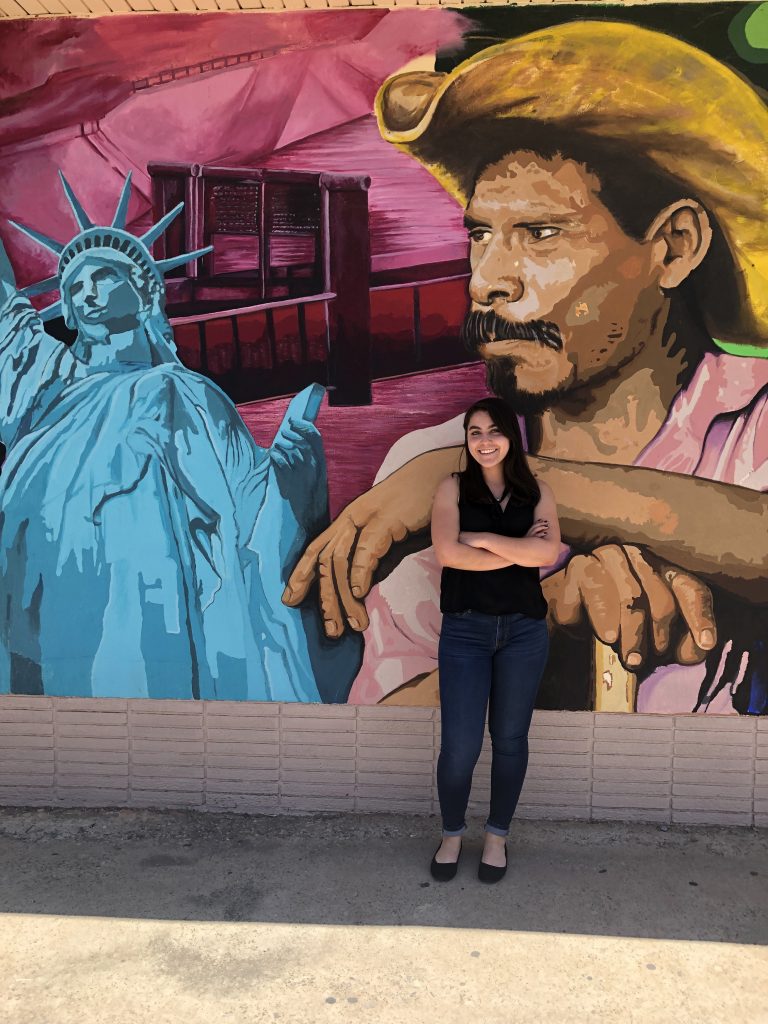 Rising 2L Claudia Chavarria hopes to pursue a career in immigration law because she is passionate about helping immigrants and giving back to the community she grew up in.
Chavarria is originally from El Paso, Texas – which is one of the main ports of entry for immigrants entering the U.S. Chavarria's background played a pivotal role in her views on immigration, justice and advocacy for underrepresented communities.
Chavarria studied political science and legal reasoning at the University of Texas at El Paso. She interned at Diocesan Migrant and Refugee Services, Inc. — a full-service immigration legal aid clinic — before coming to law school. She also volunteered at CASA of El Paso, a nonprofit organization that represents and advocates for abused and neglected children in the family court system.
This summer, Chavarria is a legal intern at the Las Americas Immigrant Advocacy Center in El Paso. Las Americas Immigrant Advocacy Center is a nonprofit organization that provides free or low-cost legal services to immigrants and refugees.
"I want to help those who are detained get out of detention centers and gain a little bit of freedom," Chavarria said. "I want to give people hope and let them know that this is a country of opportunities. I want to give others the hope that they have lost."
Chavarria is gaining valuable first-hand legal experience with immigration law through her internship. She visits clients in detention centers to do intake paperwork, helps prepare clients for interviews, talks to clients' family members, gathers information and documents for client applications, helps write motions and briefs, conducts legal research and translates documents.
She has also had the opportunity to go to Ciudad Juárez, Mexico to do intake paperwork with individuals who are part of the Migrant Protection Protocols (MPP). The MPP are protocols by the U.S. Government in which individuals entering or seeking admission to the U.S. from Mexico wait outside of the country for the duration of their immigration proceedings.
Chavarria said that the most challenging part of her internship is wanting to help as many people as possible, but knowing it isn't possible because of limited resources.
"I constantly am angered by not being able to fully help everyone or do more to change their situations," she said. "It breaks my heart knowing that many people are treated badly. Often, this goes unnoticed. Many cases go unheard of, and many stories are unknown. So many people do not receive the help they need."
At Las Americas Immigrant Advocacy Center, Chavarria enjoys seeing positive results yielded from cases she's assisted with.
"It has been extremely rewarding to hear when a client is released from detention. It is exciting to see the end result of the hard work that is done," Chavarria said. "Everyone here is so passionate and hardworking. Seeing the effort that each person gives and seeing the results of it makes me proud to be here."
Through her internship, Chavarria is able to take concepts and principles she learned in law classes and apply them to real-life scenarios with clients. She said her internship is, "challenging, enriching and fulfilling at the same time."
"I can apply what I've learned in school so far to make a positive impact in someone's life," Chavarria said. "One of the best ways to learn is to take initiative and not be scared to try or do something that you have never done before."
Chavarria is the vice president of KU Law's Hispanic American Law Students Association; secretary of the Dean's Diversity Leadership Council; and a member of the International Law Society, Women in Law, First-Generation Professionals and the Federal Bar Association. She also plays for the law school's intramural volleyball, sand volleyball and soccer teams.
Chavarria hopes to one day practice law in an area where legal representation is not as accessible and there is a need for attorneys.
— By Ashley Golledge
This post is the seventh in a series highlighting the diverse internships and jobs KU Law students and recent graduates are engaged in over the summer of 2019 and early in their careers. Check out earlier posts from this series about David Biegel, Samantha Natera, Mohammad Hameed, Ellen Bertels, Delaney Hiegert and Jackson Ely.