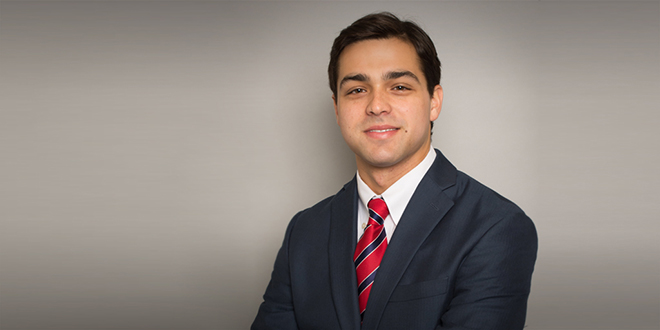 The experience on 3L Jacob Elberg's resume traverses state lines. So far in his career, Elberg has held legal positions in Kansas, Florida and New Jersey.
Before going to law school, Elberg spent a year as an intern for the Douglas County District Court in Lawrence. This summer, he split his time between Florida and New Jersey.
Elberg's hometown is Weston, Florida. For the first half of the summer, Elberg was a summer law clerk at Thomas & LoCicero PL in Fort Lauderdale, Florida. Thomas & LoCicero PL is a law firm focused on business litigation, media law and intellectual property law.
At Thomas & LoCicero PL, Elberg enjoyed being exposed to situations he has not encountered in law school, such as partner meetings for case strategy, extensive preparation for oral arguments and preparation for depositions or mediation. He said a rewarding aspect of his internship was seeing his work used by the attorneys at the firm to assist them in grasping or briefing high-profile cases.
As a summer law clerk, he researched various legal matters, drafted legal memoranda, attended civil legal proceedings and edited legal briefs.
Elberg hopes to pursue a career in media and intellectual property law litigation.
"Working at TLo provided me a great opportunity to work in the specific area of law I am interested in," Elberg said.
After the first half of the summer was over, he headed to Trenton, New Jersey for the second consecutive summer to serve as a judicial intern for Judge Freda Wolfson at the U.S. District Court for the District of New Jersey.
"I spent a majority of my formative legal experience over the last two years with Judge Wolfson," Elberg said. "I experienced immense personal growth. My research skills, writing skills and academic achievements have dramatically improved."
Elberg's responsibilities as a judicial intern included drafting opinions, orders and legal memoranda, researching legal doctrines, completing various assignments, observing civil and criminal legal proceedings and observing settlement conferences.
"It seemed daunting at first, but Judge Wolfson and her law clerks are hands on in helping the interns in any way to comprehend an issue and complete an assignment," Elberg said. "In that regard, the open-door policy in chambers was nice. So while there is pressure to meet high expectations with the work we turn out, there is plenty of comfort because we have the support of everyone in chambers to help improve our work product."
Completing both of his summer internships helped Elberg gain confidence and become a more strategic legal thinker.
"My love and respect for the law has also been further solidified," he said.
Elberg said the best professional advice he's ever received is to use every internship and legal experience to foster meaningful relationships with those he meets.
"Whether it is other lawyers or legal assistants, that particular relationship could lead to a myriad of opportunities," Elberg said. "So, in that regard, this could extend to being kind and humble with everyone you meet because you never know where it could lead you."
Elberg received his undergraduate degree in communications studies from KU in 2016.
"After having a great experience as an undergrad, KU Law seemed like the right place for me," Elberg said.
At KU Law, he is co-founder and director of communications for the Mindfulness in Law Society, co-founder and former president of the Jewish Legal Society and a member of the Student Intellectual Property Law Association.
Last semester, he co-authored a scholarly paper called, "Making @YourState 'Friends' With #Privacy: Rights and Wrongs In State Social Media Privacy Password Statutes" with Genelle Belmas, a media law scholar and associate professor of journalism at KU.
The paper evaluates the legal landscape of social media privacy in terms of vintage communication laws, cases and state statutes, and makes recommendations for crafting new statutes. Elberg and Belmas were inspired to write the paper after talking about hot topics in media law over coffee.
The paper was selected by the Law and Policy Division of the 2018 Association for Education in Journalism and Mass Communication conference. Elberg and Belmas presented it at the conference on Aug. 8, 2018 in Washington, D.C.
"A donor sponsored me to go to the conference, and I am thankful to Dean Stephen Mazza and Dean Crystal Mai for their help in sorting everything out," Elberg said.
In addition to editing and preparing the paper for publication this fall, Elberg will be taking classes for his third year of law school and working at Legal Services for Students as a legal intern. After he graduates and takes the bar exam, Elberg plans to apply for judicial clerkships and other legal opportunities.
— By Ashley Hocking
This post is the eleventh and final in a series highlighting the diverse internships and jobs KU Law students and recent graduates were engaged in over the summer and early in their careers. Check out earlier posts from this series about Omar Husain, James Hampton, Malika Baker, Lindsay Strong, Arturo Garcia, Jessie Pringle, Madeline Heeren, Miranda Luster, Becky Howlett and Caroline Kastor.